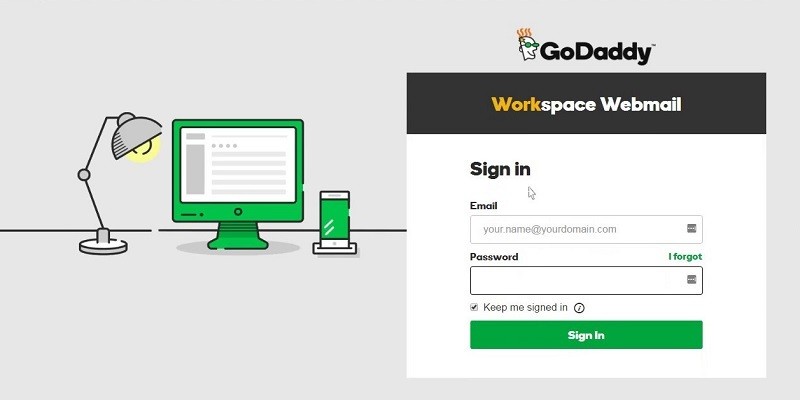 How to Access GoDaddy Email?
The Internet offers us various ways to do things in almost everything. This is also true in accessing emails. We can either access our email via webmail, via an email client, or via an internet service provider or a web hosting provider. The emails are stored on the server of these providers. And we have the control when to delete those emails.
Ways to Access GoDaddy Email
Webmail is a means of sending and receiving emails from a web browser such as Google, Google Chrome, Internet Explorer, Safari, Android, or Apple mobile phones.
1) GoDaddy Email Access via Web Browser
Some of the known free email clients are gmail.com, yahoo.com, ymail.com, rocketmail.com, etc. Just like these email addresses, we can access and manage our GoDaddy email account through web browsers such Google, Google Chrome, Internet Explorer, Netscape, Safari, Opera or Mozilla Firefox, Slimjet, Maxthon and UC Browser.
To access and manage your Godaddy webmail or Workspace Webmail, open your browser and type the website www.godaddy.com when you see the email tool, login using your username and password, and click enter. These are called email credentials – the username and password.
For easier access in the future, bookmark GoDaddy's log-in page.
2) GoDaddy Email Mobile Access
a) Download and install the GoDaddy mobile app via Google Play for Android phones or iTunes for Apple phones. Launch the app and tap the Email Management tab. This will open your email dashboard. Log-in using your credentials and tap Go.
b) To check your GoDaddy email using your mobile phone, you can also launch the mobile phone's browser and type the mobile mail URL (Uniform Resource Locator). URL is also called the website. Usually, a mobile URL starts with "m." For example, for yahoo.com email mobile access, it will be typed as "m.yahoo.com". So for GoDaddy, it is m.godaddy.com.
Log-in using your credentials – your GoDaddy email address and password.
3) GoDaddy Email via DesktopClient
Some typical desktop clients are Mozilla Thunderbird, Kmail, MS Outlook, and Mac Mail.
Configure your email client using POP or IMAP access to your GoDaddy email. POP stands for Post Office Protocol, which means emails are downloaded from the website of internet service provider synchronizing to the personal computer we use.
The incoming server setting of pop.secureserver.net or imap.secureserver.net must be configured. Use port number 110 or 143, respectively. The outgoing server setting must be smtpout.secureserver.net with port number 80.
4) GoDaddy Dashboard Access
Workspace Webmail can also be accessed by logging in to the GoDaddy account dashboard. This is also through a web browser. Click the Email Management Tab then click the Webmail option that is next to the email address you want to open in the Webmail Tool.
When we sign-up for GoDaddy service of web hosting or for taking GoDaddy as our internet service provider, we automatically get to sign up for an email address- the email address that ends with "@godaddy.com". Example: [email protected].
With all these options to access GoDaddy email login, retrieving emails is so fast and easy.
DON'T MISS