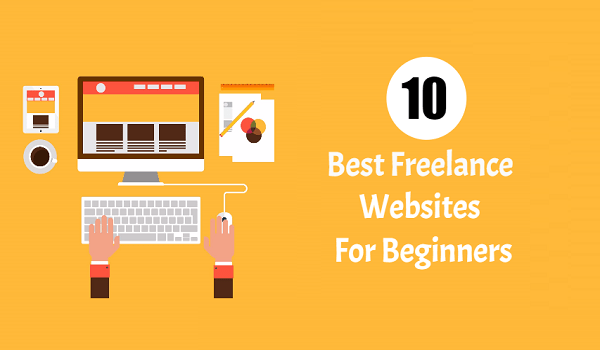 The 10 Best Freelance Websites for Beginners
If you are someone who has a talent writing, design, arts, music; any unique talent and you are looking to showcase your skills, freelancing might be precisely what you are looking for.
As you get yourself established, get the right clients, bid at the right prices, you can become pretty busy and make some real cash on the side. And people get to see just how creative you can be!
Related: 5 Reasons You Should Try Freelancing
Related: How to Start Freelancing with No Experience?
Here are listed the 10 best freelance websites for beginners to get you started:
Best Freelance Websites for Beginners
Upwork is one of the best freelancing sites if you are a beginner. There are many people who are actually making a full-time living from work they get on Upwork.
When you start, you might find the payouts low, but once you get into it and start getting a lot of work, you could say you are on your way. Here is a great tips list on how to get started on Upwork as a beginner.
There is great variety too. With over 10-million users and over 3-million jobs placed every year, youcan be a winner.
This is a huge marketplace offering the world a digital service. If you offer a service on Fiverr, it's calleda gig. It's all about selling your services and buyers will buy it.
As long as what you have to offer is all legal and complies with the terms of Fiverr, you're set to go. Look at their over 100 types of ideas and categories where you can browse and get your ideas.
Here is the place to get started and to see where you fit in. "Work your way" with Fiverr.
Craiglist is a very popular freelancing site. Some people think it's only for trading or buying stuff but it is a great source for a freelancer to find jobs.
In Craigslist you choose the city that you live, the jobs section and gigs section. You apply for what you want. Include your work samples so employers can see what you are all about.
Craiglist might not be automatic choice for freelancing work, but it can lead you to great opportunities online. Just don't get into any scams, so check it out here.
Freelancer is world-wide market place website for freelancers. Potential employers will post their jobs. You as a freelancer can find the job you are suited for and bid for it.
If you are good and your service is at a rate that satisfies the employer, you have every chance of landing that job.
Remember that with most freelancing sites, you have to register with each company to start working with them.
Toptal is one of the best freelance sites for finding the best-of-the-best software developers and engineers for the real important projects.
Employers trust Toptal to source for them these freelancers. Try Toptal, even created by top engineers.
This freelancing site is for designers and UX/UI artists. If you're looking for any freelance work that goes around design work, you will find it on this website,99 Designs.
The clients are the ones who request applications from designers. Designers then submit their work for 'approval. Whichever proposal appeals gets picked.
People per hour is one cool freelance website for a beginner in web development, web design services, software development, marketing, SEO and more.
"Getting aquick job done has never been easier" is what they say on this website and you can be a part of that, getting the job done and getting paid for it. You will love this site.
Envato Studio focuses mostly on web-development and design, the ideal online marketplace for you to start. If you are good at designing logos to working with WordPress customization, that type of thing, you will enjoy this website.
Read all about joining them here. And they have Envato Tuts+: where you can find an excellent offer of video courses and also tutorials to help you to learn skills.
This is a leading website for those freelance writers to simply find out all there is to know about freelancing; a learning and growing platform.
Whether you are an experienced writer or starting out, the information that you find on this site is right at the tip of your fingers.
Look at their freelancer writing board for jobs to get you on board.
Ranked as one of the top websites for freelancers, you'll find the cream of the crop clients and excellent money-making opportunities.
You might take some time to build yourself up as a freelancer, but once done, you'll love the opportunities to be found with this firm favourite, covering all work categories.
Conclusion
It certainly does make a lot of sense to investigate freelancing when it allows you to make money without having to invest any money into it to get started. Above are some of the best freelance websites for beginners to.
It means you can freelance alongside your 'main' job to pursue your passion and get it started, building up your portfolio.
It's true that sometimes a freelancing career can make you more money than your average job. Get going, it's your call!
Related Articles: