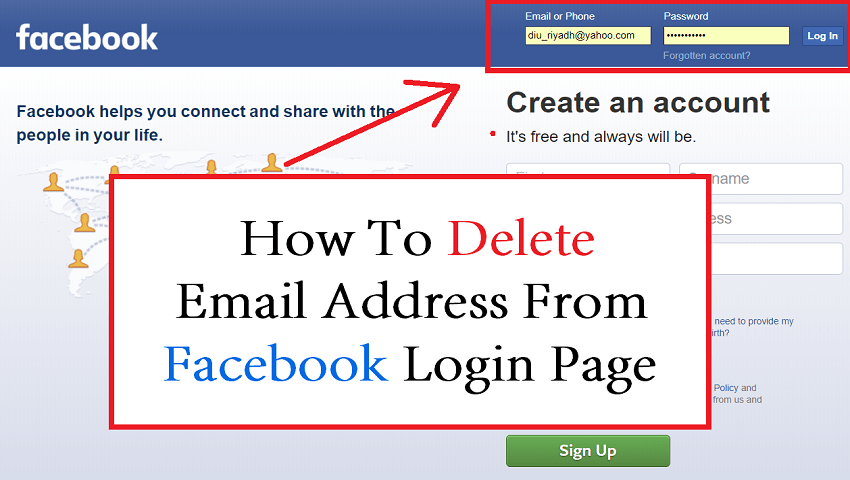 How to Delete an Email Address from the Facebook Login Page?
There are times when we want or feel the need to delete an email address from the Facebook login page. This is when we are access our fb account in at an internet café, office or in any public place.
Deleting our fb login page means security for our accounts. There are chances that our account can be accessed by other users who are technically inclined – the "techy" ones. They are also called hackers/phishers. They can all do harm!
Facebook Login Page – How to Delete an Email?
I think it may important for you to know How to Delete in Different Browsers? Read on.
For Internet Explorer
1) Make sure you are logged out of your Facebook account.
2) Click the Tools button. Click on the Internet Options icon at the far right corner of your screen under the Tools button.
3) Select the General Tab, next the Browsing History, then the Delete the Browsing History box. This must be done to make sure all the browsing history is removed.
4) To finally delete in Facebook log in page, tick the Form Data check box. Tick the Delete button.
For Google Chrome
1) Go to chrome://settings/
2) Click on the 3 small dots at the top right portion of the screen. This is Control Google Chrome icon.
3) Click the Advanced option at the bottom of the screen.
4) Go back to the Facebook login page and copy the email address you want to remove from the list of emails that were used to access Facebook.
5) Go back to the Chrome Settings and paste the copied email address at the search bar.
6) Remove that email address.
Easiest Option
1) Click on the phone or email address field in the login page.
2) Press the arrow down key (↓) on the keyboard to show all the email addresses logged in. Choose your email address to be deleted by highlighting it.
3) Press "SHIFT" + "DELETE" on your keyboard. Your email address would be deleted permanently until you type them again.
For Safari
1) To open the drop down list, click the input field (empty field).
2) Look for the email address you want deleted.
3) Highlight it but do not click it.
4) Press SHIFT+DELETE keys on your keyboard. This will erase the email address you chose.
Related Articles: