How to Black Text on 4Chan?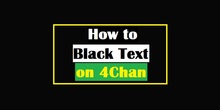 4chan is an imageboard website where users can post anonymously because registration is not made possible for others and made possible only to their staff. Christopher Poole created this website, which was launched on October 1, 2003. It is split into various boards with their specific content and guidelines, and the most recent posts appear on top.
One of the hot topics here is 4chan spoilers and how to hide them. Spoilers are the ones who give away key points when discussing a new movie, a book, and, most of all, video games on the internet. Making the text unreadable is the key to spoiler 4chan.
So, Here's how to the spoiler on 4chan: