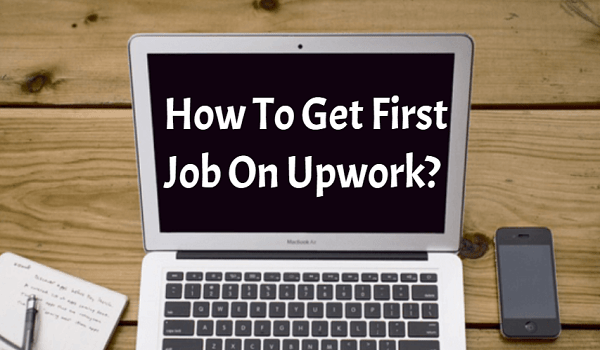 How To Get First Job On Upwork?
First of all, who is Upwork?
Upwork is one of the world's leading websites for freelancing work. Every year, literally millions of jobs get posted on the website, enabling freelancers to apply and earn more than a billion dollars every year.
As a newbie, it can take a bit of time but here are tips on Upwork for beginners that will help you to start raking in jobs, helping you on how to get first job on Upwork?
Earlier we had an article about How to Start Freelancing with No Experience?, and if you have read it you would know more about Freelancing.
How To Get First Job On Upwork?
1. How Does Your Profile Look?
When you sign up to Upwork, you will create a profile, to allow potential clients to 'view' you. Your job will be to wow them.
To do that, showcase your skills, tailoring your profile, and honing in on your particular talents.
Keywords are also important because clients will use these to land on your profile. Build around your niche, using keywords to expand on your talent.
Don't forget your photo! Look here for tips on creating a great profile.
2. A Winner At Proposals
Once your profile has been set up, you need to start proposing offers for work. A kind of nonchalant, sloppy proposal is not going to cut it.
Remember a proposal on Upwork is what will introduce you to your new client, and you want jobs right?
Give important details about why you are good at the job, showing similar jobs you did in the past. Basically, you want to show the client that you are an asset to them.
But don't worry; there are also tips for you to read about how to submit great proposals.
3. Don't Ramble On In Your Application
It's definitely not necessary to write long reams of why you are the right applicant for the job. They will probably just skip all that.
Keep it reasonably short but with all the right stuff in it. Your aim is to get the client interested in your proposal, enough to hire you.
4. It's Important To Read The Job Description Fully
If you get the job, the client will request certain requirements for the job. And these are things you should adhere to.
Show the client that you have read and understood the instructions by applying for the proposal.
Once you accept the offer for the work, you need to complete the work in the given time and according to client's instructions.
There are clients who will ask questions; whether you understood the job description. Keep an eye open for that. Here's some more advice for newbies on Upwork.
5. Fill In The Job Application
There are other important 'forms/places' that you need to fill in when applying for a job on Upwork.
Like what your proposal bid is, what time it will take you to complete a job and other questions the client might ask you.
These places are supplied by Upwork already and you will just have to provide your answer. Here are tips on how to submit your application (your proposal).
6. Which Jobs Are You Going To Choose?
Because you want to make money and get started, you might want to apply for as many jobs as you think you can take on.
Some might not even be related to your special niche. Rather bid on the jobs that you want to work on.
The jobs you are really interested in will give you a good reason to write a good proposal because you will probably know exactly what is expected.
7. Flexibility Will Help
Being a newbie freelancer, starting at the beginning, you might have to start with the lower rates and be happy with that; it's all about how to be successful on Upwork, to get the experience and build yourself up.
Don't just look at the money, look for good feedback from clients, building yourself a portfolio of successful work completed and watch as you grow from there.
8. Interviews
Don't always expect that just because you are good or that you sent in a good proposal that you are going to be the hired one.
Sometimes a client will choose someone else; maybe someone with lower rates.
Remember your job is to not only to land the client but to get good reviews to lead new prospective clients to your door.
Be Patient – It Will Come
It is of utmost importance to communicate well with your clients, showing professionalism right through from your profile to the final delivery of the job.
The more you apply for work on Upwork and the more you discover what your clients are looking for, be eager to learn new skills to enhance your profile, even more, adding value to your clients.
Remember, be patient and don't give up. How to get the first job on Upwork requires perseverance; you can only go from strength to strength! Good Luck!
Related Articles: