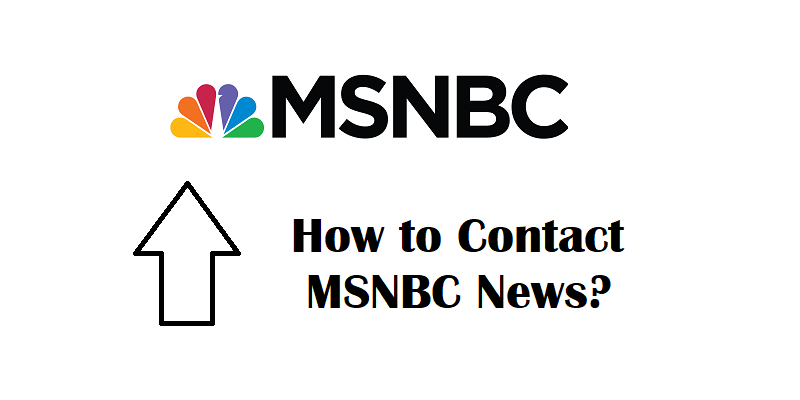 How to Contact MSNBC News?
MSNBC is owned by NBC Universal (now by Comcast) and was launched on July 15, 1996. It replaced "America's Talking" which had broadcasted from 1994 to 1996.
MSNBC broadcasts across the United States and operates a 24-hour television news channel and a news website. And there are various ways to contact each department of MSNBC.
How to Contact MSNBC?
Thru email. For breaking news tips, article comments, or important and urgent information, directly get in touch with the writer. Each author's name is listed on top of the article he has written. There must be an email address. However, please be warned that not all MSNBC writers have emails provided publicly.
​Thru letter. Sending a letter to the writer is the next option if no email address is given in the article. Send the letter to: MSNB on the Internet, One Microsoft Way, Redmond, WA 98052.
For a particular article concern, do not forget to provide the URL (Universal Resource Locator) of your concerned article. In other words, it is the article's website.
Thru a comment. To comment in an article, there is an available "DiscussStory" button at the bottom. Click it. A "Discuss" box will appear for you to type in your comments. Click the "Post your Comment" button once you are okay with your comments. Read over your comment before sending it to make sure you had typed what you really wanted to say.
For MSNBC TV:
Thru TV department email. There is usually an email in the "About US" section of the website. You may email one of the staff of the show. Each individual news show is shown.
Thru MSNBC TV mail. If emailing is not an option for you, send them a letter thru the following address: MSNBC TV, 30 Rockefeller Plaza, New York, N.Y. 10112
Thru a phone call. For the fastest access to MSNBC News, directly speak to someone at the number (212) 664-4444. After all, calling is the shortest and easiest way possible to contact someone.
For press inquiries, Media Relations can be reached at (212) 664-6605. This is intended for reporters, though.
​There are many ways to contact a company nowadays. The old style of sending letters and digital means are both available. Almost all big companies have contact centers or what they call the Customer Service Hotline.
It is not different from MSNBC. With all these available means of communication, one has no reason to say he cannot contact MSNBC, right?