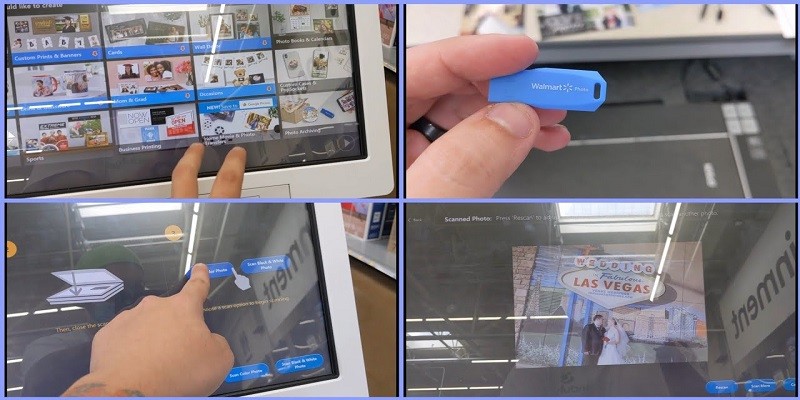 How To Print Digital Photos At Walmart?
To print digital photos at Walmart, first upload the photo to their website. Then select the size and quantity you would like for your prints. Next choose an in-store pick up option or have them shipped directly to your home.

If you are picking up in store, make sure to bring a valid government issued ID with you when collecting your prints. At the checkout page provide payment information and then review your order before submitting it. After submitting, wait for an email confirmation that will include a barcode which needs to be shown at the store when collecting the prints.

Once you receive this email it is ready for collection or delivery depending on what shipping method was chosen during checkout process.
Visit Walmart's website: Go to the Walmart website and select the "Photo" section of the site.
Upload photos: Select a photo from your computer or device and upload it to Walmart for printing. Multiple options are available depending on how many prints you would like and what type of product (prints, calendars, etc) you would like to purchase.
Choose size & quantity: Select your desired paper size and choose how many copies you'd like printed before clicking "add to cart".
Pick up in store or order online delivery: If you're ordering online, select whether you want it shipped directly to your home or picked up at a local store near you – this may vary by location so make sure that option is available before selecting it as an option for checkout! Alternatively, if picking up in-store is an option at your local store simply select "Pickup Today" when adding items into cart during checkout process.
Checkout & print : Once all items have been added into cart proceed with checkout process following instructions until completion – then simply pick up your prints either same day (if selected pickup today!) Or expect them within 2-5 business days via mail if ordered through regular shipping!
How to Print Digital Photos at Walmart?
Can I Print Photos from My Phone at Walmart Kiosk?
Yes, you can print photos from your phone at Walmart Kiosk. This service is available in most Walmart stores and offers quick printing of images from your smartphone or other device. To use the kiosk, simply connect your phone to it via a USB cable or WiFi connection and select your desired photo.

The kiosk will then print out a high-quality copy of that image for you in no time! Additionally, if you have an old school film camera or even digital prints on hand, they too can be uploaded to the kiosks with ease – allowing you to bring those memories back into tangible form!
How Do I Get Prints of My Digital Photos?
To get prints of your digital photos, you can upload them to an online printing service such as Shutterfly or Snapfish. After selecting the images you want to print, choose the size and quantity of prints that you need and place your order. The prints will be delivered right to your door in a few days!

You can also take a USB drive containing your digital photos to any local photo lab or drugstore with a photo kiosk where they'll be able to make traditional paper prints for you.
Does Walmart Scan Digital Photos?
Yes, Walmart does offer the option to scan digital photos. You can have your digital photos scanned at any Walmart Photo Center with an in-store kiosk or via their website. When you drop off your digital files at a Walmart Photo Center, they will be converted into high quality prints and stored on a disc for easy retrieval.

If you choose to use the online service, you can upload your images directly from your computer or smartphone and have them printed out either as prints or on canvas. All of these services are available at an affordable price and make it easy to keep all of those important family memories safe and secure.
How to Get Digital Photos Printed at Walgreens?
Getting your digital photos printed at Walgreens is easy and convenient. All you need to do is upload the photo from your computer or mobile device to the Walgreens website, select the desired size and quantity of prints you'd like, choose a store location for pickup, submit your payment information and then pick up your prints in as little as an hour. For those who don't have access to a printer or are looking for professional-grade quality prints, this can be an ideal solution.

Plus, with same day pickup available in select locations across the country, it's never been easier to get beautiful prints of all your memories!
Credit: www.youtube.com
Walmart 1 Hour Photo
Walmart 1 Hour Photo is a convenient way to get your photos printed. With Walmart's fast service, you can have prints in as little as an hour of submitting your order. You can also choose from a variety of sizes and finishes, including glossy or matte photo paper.

Plus, you can pick up your prints at any Walmart store location near you for added convenience!
Walmart Photo Print
Walmart Photo Print is a convenient and affordable way to print your photos. With this service, you can upload your favorite digital photos and then select from a variety of sizes, papers, frames, and other options to customize the look of your prints. It's easy to order online or in store using their mobile app with same-day pickup available at some locations.

Plus, Walmart Photo Print offers competitive prices that make it an ideal option for budget conscious consumers who want quality results!
Walmart Photo Center
Walmart Photo Centre is a great way to preserve and display your special memories. With their convenient online photo centre, you can easily upload photos from any device and create prints, wall art, photobooks, cards, gifts and more! Walmart also offers same day pick-up service so that you can quickly get your photo products without having to wait for shipping or delivery.
Conclusion
Printing digital photos at Walmart is an easy and convenient way to get beautiful prints of your favorite memories. The process is simple and quick, with no additional software needed. With a few clicks on the website, you can select the size and type of prints you want, upload your images, choose a pick-up location, pay for your order online or in store using Walmart Pay, then head out to pick up your prints.

Walmart offers a range of sizes from wallet sized photos all the way up to poster sized enlargements as well as traditional photo paper or canvas wraps so that you can find exactly what works best for preserving those special moments.