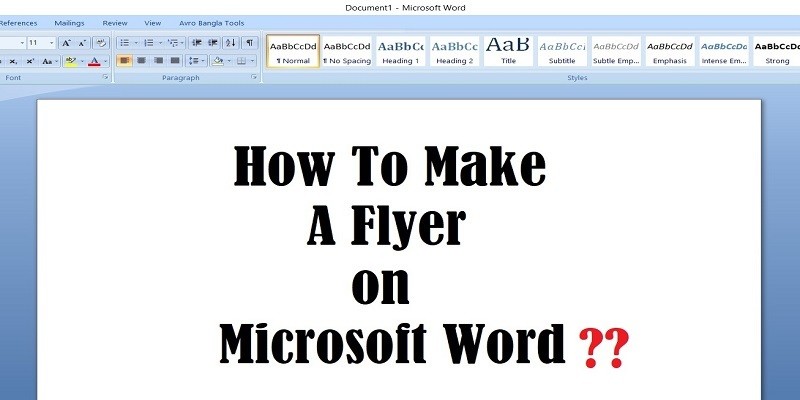 How to Make a Flyer on Microsoft Word?
A paper flyer is still in demand these days despite the advent of social media and the internet. We can create flyers in different applications, especially MS Office. How to create a flyer in word?
Here's how to make a flyer in Word in 2010, 2013, 2016, and 365 versions:
Open the MS Word application from your computer or laptop.
Open the FILE tab. Select NEW from the menu.
Select FLYERS from the Search bar. In Word 2010, we can select from the template available under FLYER. If the template you want is not visible from the list, search for it. Type the specific term you want in the search bar, such as garage sale, shop or boutique opening, etc. Choose from the options that will appear. (Skip to number 5)
The free flyer templates display can be browsed until you see the design that fits your needs or ideas. Once decided, click on the chosen template, then click CREATE.
Text can be edited. To edit, highlight the text you want to be edited and revise the information. Texts can also be edited by overwriting them. To do this, press the Insert button on the keyboard. It is situated near the Page Up, Page Down, Home, and End buttons. To remove the overwriting mode, press the Insert button again.
Changing the image is also easy. Click the image you want to be changed and right-click the mouse, choose CHANGE PICTURE. From the dialogue box, select the new picture you want to use on your flyers and click Insert.
Highlighting the picture, text, or element you want to change and right-clicking the mouse will give you all the available options you can do with the selection. You can change the color, font style, size, and design features.
Unwanted elements or features? Delete is also available at the right-click.
Now, you may print or save the flyer you had just created!
Repeat the process and try to manipulate the elements until you become an expert on making a flyer on Word for any future flyer preparation. Creating your flyer is still the best option.
At first, yes, it will be awkward. But once we get the grip, all will be easy. Most of all it will be less costly! Imagine the costs it will take for all those editing and re-printing? Those problems will be solved!
Read More