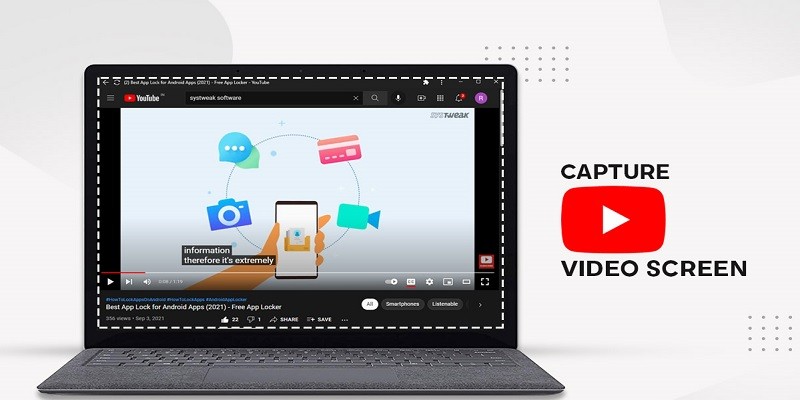 How To Capture Youtube Videos?
To capture YouTube videos, you will need to use a third-party video recording program. There are several available online such as Replay Media Catcher and Video Downloader Professional. Once the program is installed on your computer, open up the browser of your choice and navigate to the YouTube video that you want to record.

Then open the recording software, click "Record" and start playing the YouTube video. When it has finished playing, stop recording in the software so that it can save this file for later viewing or editing purposes. You may also be able to find browser extensions or plugins which enable you to download directly from within your web browser without having to use any additional programs.
Step 1: Download a Video Capture Software – The first thing you need to do is download and install a video capture software. There are many different pieces of software available, so make sure to pick one that has good reviews and is suitable for what you will be using it for.
Step 2: Open the Video Capture Software – Once installed, open up the program and familiarize yourself with its features and functionality. Make sure you understand how it works before attempting any recordings.
Step 3: Set Up Your Recording Device – Connect your recording device such as a webcam or microphone to your computer if necessary. This can be done via USB or HDMI cable depending on what type of connection your device requires. Then adjust any settings within the video capture software to ensure that it picks up all sound from your device correctly when recording Youtube videos later on.
Step 4: Launch YouTube & Play The Video You Want To Record – Now launch YouTube in an Internet browser window (eg Chrome) and play the video that you want to record onto your computer's hard drive or external storage device like an external hard drive or USB stick/drive etc.
Step 5: Begin Recording Using Your Video Capture Software – At this stage, click 'Record' in the video capture software which should begin capturing whatever audio/visual content playing on screen including both images and sound from YouTube into a file format supported by most media players (eg Mp4). Don't forget also, there may be options available within some recorders which enable recording at certain resolutions (480p/720p).
Step 6 : Stop Recording & Save File When Finished– Once finished recording simply press 'Stop' in the recorder which will then save all footage captured onto either internal storage space eg laptop HDD OR external storage medium such as an USB memory stick etc.
How to Download YouTube Videos?
How to Capture Video from Youtube Free?
Capturing video from YouTube doesn't have to be a complicated process. There are free tools available online that allow you to easily capture videos from YouTube, without having to pay any money. All you need is the URL of the video and one of these tools will help you download it in either MP4 or FLV format.

Some popular options include ClipConverter, 4K Video Downloader, and SaveFrom.net – all of which provide easy-to-use interfaces for downloading YouTube videos quickly and safely.
How to Download Youtube Videos on Phone?
If you want to download Youtube videos directly onto your phone, there are several easy ways to do so. One of the most popular solutions is using a third-party app such as Videoder or SnapTube. These apps allow you to search for and download any video that's available on YouTube with just a few taps on your screen.

Additionally, some browsers such as UC browser also have built-in downloading capabilities which makes it even easier to save content from YouTube.
Open Video Downloader
Open Video Downloader is a free and open source download manager that allows you to quickly and easily download videos from websites like YouTube, Vimeo, Dailymotion, Facebook and more. It supports multiple video formats including MP4, FLV, AVI and WebM for easy playback on any device. Open Video Downloader also supports multi-threaded downloads to ensure faster speeds when downloading large files.

Additionally it can be used to extract audio tracks from videos as well as convert them into other audio formats such as WAV or MP3 for convenient listening offline.
How to Record Youtube Videos on Pc?
Recording Youtube videos on a PC is an easy task. All you need to do is install a screen recorder such as OBS Studio or Screencast-O-Matic and then select the area of your screen that you wish to record. Once you have set up the recording, click start, and your video will begin recording.

After it's done, save the file in whatever format works best for you and voila! You've successfully recorded a Youtube video on your PC!
Credit: www.groovypost.com
Is There a Way to Capture a Video from Youtube?
Yes, there are a variety of ways to capture and download videos from YouTube. One option is to use an online video downloader such as KeepVid or Clipconverter. These websites allow you to paste in the URL of the YouTube video and then choose which format you would like the file downloaded in.

You can also use extensions for your web browser, such as Video DownloadHelper for Firefox or Chrome, which allow you to easily download videos directly from YouTube with just one click. Additionally, many programs such as VLC Media Player offer options that let users capture video streams directly off of YouTube without having to go through a third-party website or extension.
How Do I Capture And Download a Youtube Video?
Capturing and downloading YouTube videos is a fairly simple process that can be done with the help of an online video downloader such as TubeNinja. First, you need to copy the URL of the video you want to download from YouTube. Then, paste it into TubeNinja's search bar and click "Download".

Once your chosen quality has been selected, your video will begin downloading in just a few seconds! You should then save it somewhere on your computer or device for easy access whenever needed.
Conclusion
Capturing videos from YouTube can be a great way to save your favorite content for later viewing or sharing with others. Whether you use a third-party program, an extension, or the YouTube downloader itself, there are plenty of options when it comes to downloading and saving videos. With so many different ways to capture Youtube videos, users have complete control over their media consumption experience.